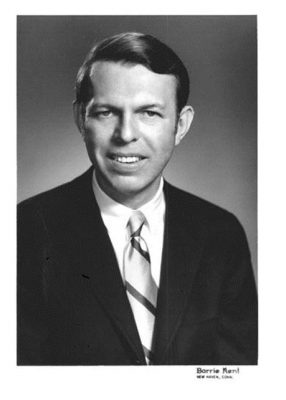 David Daniel Berdon was born in New Haven, Connecticut. He was a graduate of the University of Connecticut School of Law and became a practicing attorney in 1949. He was a member of the New Haven County (Connecticut) and the American Bar Associations, and the Connecticut and American Trial Lawyers Associations. He was also a member of the American Arbitration Association.
Before becoming a lawyer, he was a lecturer in economics at the University of Connecticut. An advocate for children with learning disabilities, he was the founder and a charter member of the VARCA, an organization that provided workforce skill development for individuals with special needs. Active in Republican circles in New Haven and throughout the state, he served as special counsel to the Connecticut Republican Party in the 1970s. In 1969, he was a member of President Richard M. Nixon's transition team, and served as a consultant and the acting director for New England at the Office of Economic Opportunity in Boston. Appointed by Gov. John Dempsey, he served as vice chairman of the commission to study procedures for the nomination of presidential candidates.
The David Daniel Berdon Memorial Scholarship fund provides scholarship support for students enrolled full-time at the University of Connecticut. Candidates must have attended events or programs focused on gender identity, gender expression, and/or sexuality at the University of Connecticut. These can include those sponsored or co-sponsored by the Rainbow Center for/on lesbian, gay, bisexual, transgender, queer, questioning, and allied communities. Additionally, candidates must demonstrate an interest in issues of concern to these communities through relevant academic coursework. The scholarship(s) may be renewed annually to the recipient(s) provided satisfactory academic progress is achieved and provided all criteria specified above continue to be met.
The monies in the David Daniel Berdon Memorial Scholarship Fund are administered by the University of Connecticut Foundation, Inc. A committee of volunteers from various segments of the University of Connecticut community review applications for scholarship awards. The David Daniel Berdon Memorial Fund is not affiliated with any specific University of Connecticut department.
Congratulations to our most recent David Daniel Berdon Memorial Scholarship Fund recipients:
2015-2016: Ronnie Shepard and Ezra Blanchard
2016-2017: Ezra Blanchard
2017-2018: Lucas Larchevesque and Hannah Meyers
2018-2019: Hannah Meyers
2019-2020: Annastasia Martineau and Rowan Sono-Ampuero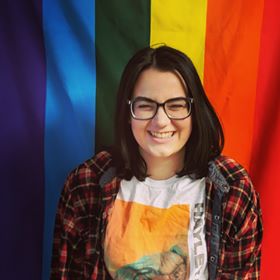 Annastasia Martineau (she/her/hers) is a senior Psychology major and Women's, Gender, and Sexualities Studies minor at the University of Connecticut. She plans to attend graduate school for school psychology with a focus on working with and supporting LGBTQ+ students. Annastasia currently works in two psychology labs, studying the development of working memory and interventions for children with learning disabilities. She also prides herself in her leadership roles and advocacy work on campus, such as being a team leader at the Rainbow Center, President of Revolution Against Rape, and President of UConn's Chapter of the National Alliance on Mental Illness.
Rowan Sono-Ampuero (he/him/his) is a sophomore at UConn and is currently studying English Education with hopes to become a high school teacher.  Rowen desires to foster the love of reading and writing to others and maintains the personal belief that popular adage "Knowledge equals Power" can be extended to include reading.  For fun, Rowan tends to write or tries to catch up on shows or binge-watches others.  At the moment he is binge-watching Victorious and Supernatural.
Check back in Fall 2020 for the possibility of a 2020-2021 Academic Year application process.
If you should have any questions about the David Daniel Berdon Memorial Scholarship Fund or its awards, please send an email to: rainbowcenter@uconn.edu.
---
If you're interested in other scholarships, apply through the New Haven Pride Center website.