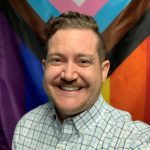 Kelsey O'Neil
Director Pronouns: they/them/theirs Email: kelsey.o'neil@uconn.edu Appointments: https://calendly.com/koneil
Kelsey A. O'Neil joined UConn in the summer of 2018 to serve as the Director of the Rainbow Center; the University's Lesbian, Gay, Bisexual, Transgender, Queer, Intersex and Asexuality (LGBTQIA+) resource center. As the director, Kelsey serves as the leader in campus inclusionary efforts.  They are charged with planning, organizing, and administering programs designed to provide awareness and understanding of LGBTQIA+ issues, social support for student constituents, and assistance in achieving their professional, educational, and personal goals. Kelsey identifies as a trans masculine, queer, higher educational professional. Within their professional work they are interested in transformational leadership and mentoring programs.  Kelsey came to UConn from Xavier University in Cincinnati, OH where they previously served as the Assistant Director for the Center for Diversity and Inclusion. In their free time Kelsey enjoys exploring the outdoors with their dogs, Layla and Beau. They love kayaking, hiking and the ocean. Kelsey is also a foodie and is always up for trying a new recipe.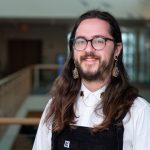 Ian Shick
Assistant Director Pronouns: they/them/theirs Email:ian.shick@uconn.edu
As the Assistant Director for the Rainbow, Ian Shick works to ensure LGBTQ students have a safe place to express themselves and find success at the University of Connecticut. They support the Director in the development of the Center's Programming and have a personal passion for Interfaith work, mutual aid development, and gender theory. Ian is new to the University, joining the team in Sept. 2023 and is excited to bring their experience to UConn.
Before their work at the UConn, they served as the inaugural Assistant Director for LGBTQ+ Resources at the Myatt Center – University of New Haven where they established a formal celebration of LGBTQ+ History Month and Native American Heritage Month and was the lead program developer for the center. They have also served as the inaugural Education and Training Coordinator at the Q Center, the LGBTQ Resource Center at Binghamton University, developing LGBTQ+ Training and Education Programs for the entire University Community.
Ian is originally from Buffalo, NY and attended the State University of New York College of Environmental Science and Forestry (SUNY ESF) where they received a B.S. in Paper Science and Engineering. They graduated in 2020, from Binghamton University, with an M.S. in Student Affairs Administration and a Master's of Public Administration with a focus in Nonprofit Management and Genocide & Mass Atrocity Prevention. They are a lover of all things *gender* and are deeply invested in queer history and media across all genres. When not in the center you can find them reading manga, thinking about philosophy, and jamming out to Ska and Midwest Punk.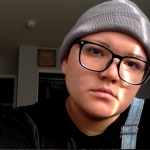 Lene Reynolds
Graduate Assistant Pronouns: they/them/theirs Email: arr23001work@uconn.edu
Lene Reynolds (they/them) [pronounced like "Lean" in "Lean on me"] is a UCONN HESA (Higher Ed. Student Affairs) graduate student. Lene graduated from UCLA in 2021 with a B.A. in Sociology, minoring in LGBTQ Studies. At UCLA, they worked in UCLA's LGBTQ Campus Resource Center, UCLA Residential Life, the UCLA School of Theatre, Film and Television, and as a Campus Ambassador for GLAAD.  After graduation, Lene worked for Snapchat and for the LA County Department of Public Health, Division of HIV and STD Programs.  In their personal life, Lene is passionate about LGBTQIA2S+ representation in media and has led discussion groups, written articles, and guested on podcasts and panels on the subject.
Brianna Vig
Graduate Assistant Pronouns: she/her/hers Email:  brv17009work@uconn.edu
Brianna Vig has been working for the Rainbow Center since the Fall of 2019 when she joined as an undergrad. Now, as a graduate student through the MPA (Master of Public Administration) program, she is a graduate assistant for the center. Currently, she is also working as the diversity, equity and inclusion intern at Benhaven and hopes to use information learned from this role and apply it to her work at the center. She is most passionate about fostering inclusive environments, especially within the context of public and private organizations, and in the future wants to follow the path of DEI and queer-centered work. Throughout her role as the new grad assistant, she hopes to be able to work closely with students to assist them in their transition to UConn while simultaneously navigating queer spaces. Some areas of research she is also interested in exploring throughout the duration of her role include LGBTQIA+ policy, anti-racist/queer and trans resources, and body politics.
The Rainbow Center also has the pleasure of employing between 15-20 student employees every year!