Kelsey O'Neil
Director Pronouns: they/them/theirs Email: kelsey.o'neil@uconn.edu Appointments: https://calendly.com/koneil
Kelsey O'Neil joined UConn in the summer of 2018 to serve as the Director of the Rainbow Center; the University's Lesbian, Gay, Bisexual, Transgender, Queer, Intersex and Asexuality (LGBTQIA+) resource center. As the director, Kelsey serves as the leader in campus inclusionary efforts.  They are charged with planning, organizing, and administering programs designed to provide awareness and understanding of LGBTQIA+ issues, social support for student constituents, and assistance in achieving their professional, educational, and personal goals. Kelsey identifies as a trans masculine, queer, higher educational professional focused on working as a social justice advocate by intentionally seeking out intersectionality. Within their professional work they are interested in transformational leadership and mentoring programs.  Kelsey came to UConn from Xavier University in Cincinnati, OH where they previously served as the Assistant Director for the Center for Diversity and Inclusion. In their free time Kelsey enjoys exploring the New England outdoors with their dog, TajMahal, a mastiff/Labrador mix. They love kayaking, hiking and the ocean. Kelsey is also a foodie and is always up for trying a new recipe.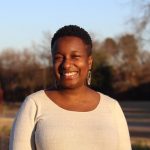 Sarah Abbey
Graduate Assistant Pronouns: they/them/theirs Email:  saa21012work@uconn.edu
Sarah Abbey (they/them) grew up in Arlington, TX but lived in Washington, DC, prior to moving to UConn. Leaving the contexts in which they grew up and becoming present in other communities gave Sarah the space to understand themselves in many different ways-including their gender and sexuality. These experiences made them aware of their love for identity development and community building, which led them to their current path of study in the Higher Education and Student Affairs Masters program.  They find a deep sense of calling in fostering environments which provide opportunities for people to be their full selves, ask deep questions, and understand the power of their identities and histories.  In their free time, they love to read-queer theory and YA fiction are their top two genres. They love to cook and eat good food and have a high value for deep conversations. They are obsessed with cider and frequently take advantage of the cideries the Northeast has to offer. They are looking forward to building community and learning together.
Brianna Vig
Graduate Assistant Pronouns: she/her/hers Email:  brv17009work@uconn.edu
Brianna Vig has been working for the Rainbow Center since the Fall of 2019 when she joined as an undergrad. Now, as a graduate student through the MPA (Master of Public Administration) program, she is a graduate assistant for the center. Currently, she is also working as the diversity, equity and inclusion intern at Benhaven and hopes to use information learned from this role and apply it to her work at the center. She is most passionate about fostering inclusive environments, especially within the context of public and private organizations, and in the future wants to follow the path of DEI and queer-centered work. Throughout her role as the new grad assistant, she hopes to be able to work closely with students to assist them in their transition to UConn while simultaneously navigating queer spaces. Some areas of research she is also interested in exploring throughout the duration of her role include LGBTQIA+ policy, anti-racist/queer and trans resources, and body politics.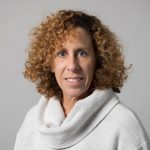 Pamela Miller
Center Administrative Assistant Pronouns: she/her/hers Email: pamela.miller@uconn.edu
Pamela Miller, a UConn Alum, has spent most of her career as web developer, graphic designer, and marketing consultant. Her career includes a plethora of both professional and volunteer accomplishments that have fostered a unique blend of skills, helping non-profits, small businesses,  and community organizations. At The Rainbow Center and UConn's Office of Diversity and Inclusion, Pamela's passion for working with people who care deeply about equity and social justice is realized. In her spare time, she enjoys coaching college swimming and high school rowing, and skiing with her husband. She is a proud mother of two.
When I dare to be powerful, to use my strength in the service of my vision, then it becomes less and less important whether I am afraid." ―   Audre Lorde
The Rainbow Center also has the pleasure of employing between 15-20 student employees every year!