Contact Us
Phone:
860-486-5821
E-mail:
rainbowcenter@uconn.edu
Address:
2110 Hillside Road, Unit 3096
Student Union 403
Storrs, CT 06269
Hours
Semester Hours

Monday-Friday: 9am-8pm
Saturday-Sunday: Closed
A Message from the Rainbow Center
Hello LGBTQIA+ and Allied Community!
Everyone is welcome at the Rainbow Center.  We pride ourselves on a family-like environment with academic and social opportunities.  We have been serving UConn's diverse communities of gender identities, gender expressions, and sexualities since 1998.  The fun and amazing staff provides resources and services to the wider campus community of students, faculty, staff, and local residents. We are especially excited to introduce our new Director, Kelsey O'Neil (they/them/theirs). To read Kelsey's bio, please check out our Meet the Staff page.
This is the Rainbow Center's 20th Anniversary. Update your contact information with the Foundation to recieve updates about events we are planning to celebrate. Since our founding, the Rainbow Center has been named one of the best 100 gay-friendly campuses in the country, and received a 4.5 out of 5 rating on the Campus Pride Index Report. We'd love for you to join us at a Husky Ally Safe Zone training, Out to Lunch Lecture, or upcoming event to celebrate.
Rainbow Center News
Need Accommodations for a Program?
Message from the Director – New Hire
The Rainbow Center has some exciting news to share with the campus community!  In February 2019 the RC launched a search for its first full-time Rainbow Center Coordinator.  On-campus interviews for finalists were held in early May.  The search was remarkably competitive.  It is my pleasure to announce that Julia Anderson (she/her/hers) was offered the position and recently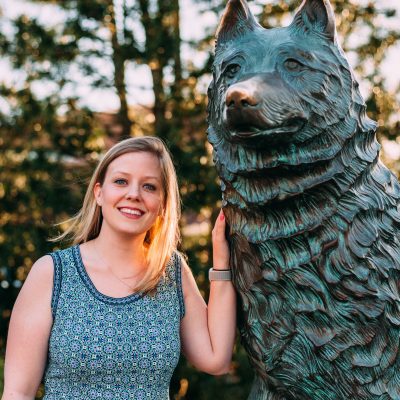 accepted.  She began her role as Rainbow Center Coordinator on June 21.  Julia brings a high level of expertise, facilitation, and dedication to the work and we are excited to have her as part of the Rainbow Center team.  Julia is a 2018 UConn HESA alum and previously served in a temporary programming role for the Rainbow Center for the past year.  Julia's favorite part of her job is the personal connections she is able to make with students and colleagues at UConn. She will continue to oversee the FYE class taught in the Rainbow Center, the FAMILEE mentoring program, and the Rainbow Center's training programs, among other things.
---