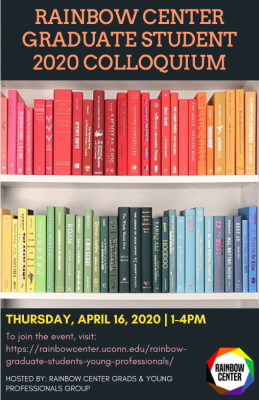 The 2nd Annual Rainbow Center Graduate Student 2020 Colloquium was held virtually on Thursday, April 16th from 1-4pm.
Featured was some incredible research from 5 UConn Graduate Students, representing 5 different academic disciplines. For information about the presenters and their research, please check out the program below.
To view the 2020 Rainbow Center Graduate Student Colloquium, please click on this link here. (Please note that one may have to hit the PLAY arrow and then the CAMERA icon despite the screen reading "There is no content to view at this moment.")
To view the accompanying program to the colloquium, please click on this link here.
The Rainbow Center Grads and Young Professionals Group seeks to connect and empower LGBTQIA+ graduate students, non-traditional students, faculty, and staff at UConn through social, community service, and professional development events. While our group primarily services the LGBTQIA+ university community, allies to our community are always welcome to join us at any or all of our events.
To get more information about our newsletter, subscribe here:
Subscribe to Rainbow Center Grads & Young Professionals Newsletter
To unsubscribe, fill out this form:
Unsubscribe from Rainbow Center Grads & Young Professionals Newsletter