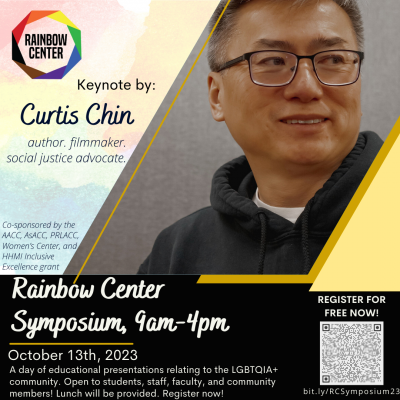 The Rainbow Center will be hosting the second annual Rainbow Center Symposium on Friday October 13, 2023.  The symposium is open to all UConn students, staff, faculty and community members. 
To register to attend the symposium click here.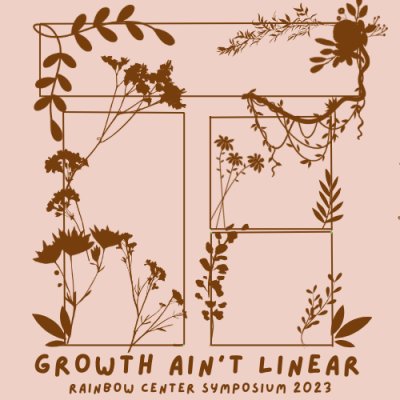 The student chosen theme for this year's symposium is 'Growth Ain't Linear. '
Below is a detailed schedule of the day.
8:30am - Doors open for attendees, SU 330/331 Ballroom

8:30-9:15am Check In Table/Coffee/Tea & Pastries/Free t-shirt pickup
9:15-9:45am Welcome & Opening Remarks

Land Acknowledgement

10:00-11:00am Session A Block [Various SU Locations]

 

Surveilling Queer Voices and Sexuality During a Pandemic in non-Metro Cities/Towns | Cecil "Ngoni" Tengatenga (any/none), Student Union Room 318/319

During the height of the Covid-19 pandemic, we explored geospatial predictors of health among LGBTQ+ male-identifying individuals in small non-metropolitan cities. We develop a novel approach for collecting data utilizing ecological momentary, geospatial and social networking assessments. In this presentation, we contextualize the perceived impact of our mobile technologies on intersecting queer identity and resilience. We aim to demonstrate how digital self-reflection and community awareness can be harnessed to resist structural oppression when geographic isolation compounds discrimination. Our discussion extends the literature in both research methods and the philosophical study of social practices as a theatre ethics in the tradition of Wole Soyinka, Judith Butler and Alice Walker.

Inclusion, Advocacy, Education and Obstacles in Sports | Alana Butler (she/her), Student Union Room 303

Is sport a safe place for queer and trans-spectrum participants? If so, how do we know? If not, how do we get there? This session will explore the history, stereotypes, and current initiatives in creating safe, accessible, inclusive, and celebratory spaces for athletes, coaches, staff, and fans. This session will look at short case studies on the intersection of LGBTQIA+ identities and athletic participation as well as remaining barriers and strategies for continued inclusion on campus, nationally, and world-wide.

11:00-11:10 Break

11:15-12:15 Session

B Block [Various SU Locations]

Finding LGBTQ+ Friendly Employers- Resources and Tips | Avery Chobotor-Caya (they/them) & Lisa Famularo (she/her), Student Union Room 303

This program will be a mix of a presentation and workshop format, where attendees will learn how to find LGBTQ+ inclusive companies and employers by utilizing various resources and tips, alongside participating in activities related to the subject. The program will also include a discussion and Q&A portion at the end.

Sex w/o Sin A Qualitative Study of the Impact of Stigma on Sexual Health and Substance Use Outcomes of Internet Based Cisgender Male Sex Workers Who Have Sex with Men | Alberto Cifuentes Jr. (he/him), Student Union Room 318/319

Often referred to as the "world's oldest profession," sex work, or the exchange of sexual activity or erotic performance for money or material goods, is often viewed in mainstream society as a profession in which women are primarily sex workers and men are mostly their clients. Sex workers frequently sell sex over the Internet; many sex workers, including male sex workers, use the Internet to advertise their services, communicate with their clients, and arrange offline meetings. Little research has explored the lives of online or Internet-based cisgender male sex workers and the impact of stigma, prejudice, and discrimination on their sexual health and substance use. In addition, their level of sexual risk and substance use may be exacerbated by their participation in sex work; however, few studies have explored the role of protective factors, specifically social identity, activist orientation, and social supports, in improving their sexual health and substance use outcomes. This exploratory qualitative study uses semi-structured interviews to examine the lives and experiences of male sex workers from various urban locales in the U.S., including NYC, Chicago, and Los Angeles. The study included 22 participants, most of whom were black/African American, identified as gay, had a four-year college degree, were in their 20s, and made $20-$30,000/year from performing sex work. Using a sex-positive feminist and intersectional lens, this study examines the impact of multiple forms of stigma on the sexual health and substance use outcomes of Internet-based cisgender male sex workers as well as the protective factors that may help them counteract the negative effects of stigma. Public health, policy, and social work implications are discussed, especially with regard to redefining sex work as a legitimate form of labor within a culture that negates the human rights of sex workers nationwide and worldwide.

12:15-12:25pm Break
12:30-1:30pm Lunch in all of the Cultural Center spaces, Student Union Room 403, (Break out to: AACC, PRLACC, RC, WC)
1:30-1:40pm Break
1:45-2:45pm Session C Block [Various SU Locations]

Fostering Sense of Belonging for LGBTQ+ College Students | Fany DeJesús Hannon (she/her/ella), Rainbow Center Program Room/Student Union 403

Sense of belonging is more than an emotion, it is a human need (Strayhorn, 2019). Over the past 26 years, scholars of color have researched sense of belonging for historical marginalized communities from the students' perspective and encouraged predominately White institutions to change their practices, policies, programs and services to better meet the needs of these communities. One of these communities is our LGBTQ+ college students. In this interactive and engaging workshop, participants will learn about the recent research on sense of belonging and LGBTQ+ college students, best practices to apply when: supporting this community, creating programs, collecting data to change policies and other procedures. Come ready to learn with me in a creative, fun, and engaging environment!

Thinking About Coming Out: Reflections and Observations | Lisa Day-Lewis (she/her), Student Union Room 303 

In this 60-minute presentation the presenter will share stories of coming-out and what either contributed to or deterred the person to come out. We will discuss situations and environments that support coming out, and participants will have the opportunity to ask questions around the topic.

HIV is a Current Event | Lene Reynolds (they/them), Student Union Room 318/319

This workshop will reinvigorate participants' knowledge about HIV, AIDS, and prevention & treatment options. We'll explore the impact of misconceptions, terminology, holistic frameworks, and sharing lived experiences. This workshop offers something for all attendees, regardless of their knowledge of HIV.

2:45-2:55pm Break

3:00-3:45pm Keynote Fireside chat with author Curtis Chin & QAA student org, SU 330/331 Ballroom

3:45-4:00pm Ending Remarks, SU 330/331 Ballroom