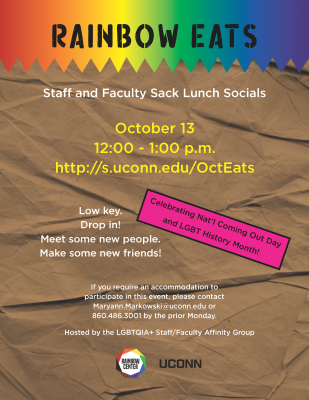 The LGBTQIA+ Faculty and Staff Affinity Group had it's first lunch meeting in March 2019 at the Rainbow Center.  An 'Open Call' for all those interested in volunteering for leadership positions was circulated by the Rainbow Center in July, and on August 8, 2019, interested faculty/staff met at the Rainbow Center to lead the group forward.  A working mission statement was developed and another 'Open Call' meeting was scheduled for August 15, 2019.  The LGBTQIA+ Faculty/Staff Affinity Group at the University of Connecticut does not restrict membership based on sexual or gender identity/expression.
In December 2020, the group changed its name to Queer UConn Employees (QUE) Affinity Group.
The Queer UConn Employees Affinity Group exists to provide support, advocacy, and community building for students, staff, and faculty at the University of Connecticut. (working Mission Statement, 8.8.19)
To receive updates about meeting times/events/advocacy opportunities please sign up for the listserv below.
Programming from the past 2019-2020 Academic Year

Popcorn & Podcasts sign up: tinyurl.com/popcornpodcastsignup
Monthly Coffee Hour Drop In: every first Friday of the month at the Rainbow Center (SU 403) 8am-9am
Parents of LGBTQ+ Community Members: contact Brenda Lowther at brenda.lowther@uconn.edu
LGBTQIA+ BIPOC Affinity Space Spring 2020: luz.burgos_lopez@uconn.edu
Queer UConn Employees (QUE) Affinity Group Listserv